June, 2018
Steve and Debbie Reid, Talbalba Herefords, Millmerran, Qld, in partnership with Mark and Nikita Duthie, Callaway Poll Herefords, Irvingdale, Qld, outlaid the top price of $32,000 for Lot 77, Ravensdale Guardian M222, sold by Brian Burgess, Ravensdale Poll Herefords, Holbrook, NSW.
The August 2016 drop son of super carcase sire Allendale Anzac E114 weighed 884kg, and scanned with an eye muscle area of 129sqcm, P8 of 18mm and rump fat of 10mm.
On BREEDPLAN, Guardian had a 600 day weight of +110kg, an eye muscle area of +3.8sqcm and intramuscular fat of 1.2 per cent. Steve Reid said Guardian matched good performance data with an attractive phenotype.
"He was correct, sirey and had some style about him with growth figures in the top one per cent, positive calving ease and marbling in the top five per cent, all combined with a proven pedigree,'' Mr Reid said.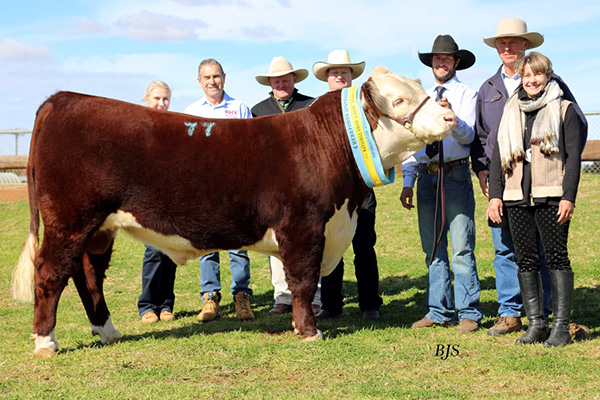 Ravensdale Guardian M222 , 22 months of age.
Reserve Champion Supermarket Index Performance Class at Dubbo National Show and Sale, 2018.