2016 saw the last Southern Cross Sale held at Pinora Sales Complex Jackson. We have sold at Pinora for the past 18 years, the last 8 years with invited vendor, Devon Court.
Next year Talbalba will hold their first on property sale at home at "Delemere", Millmerran.
We will offer free delivery to major QLD centres and have an online bidding option available. A busy year ahead…
Sale Summary this year 75 of 87 bulls sold to ave $8033
Talbalba sold 48 out of 51 bulls to a top of $20000 to average $7531.
Devoncourt sold 27 out of 36 to a top of $24000 to average $8926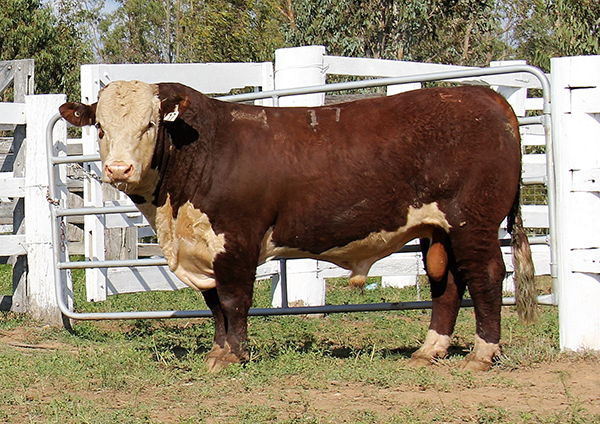 Lot 17 Talbalba top price bull sold $20,000 to Lotus and Currackabark studs.
Strong commercial sale with commercial buyers paying to $16,000.
Buckinbah Stud, St George were the standout volume buyers taking home 7 Talbalba bulls paying up to $11,500 for an average price of $8,500 and total $59,500.
Campview Grazing, Taroom bought 4 bulls with a top of $13,000 to total $35,500 and the James family, Wandoan bought 5 bulls grossing $32,500.
New buyers Pat Leahy and family paid up to $9000 for 5 bulls for $32 000.
Repeat buyers CA Hauff and Sons outlaid $32,500 for 5 heifer bulls to rebuild numbers after years of drought.
A lot of bulls sold for cross breeding into Brahman, Santa and Droughtmaster cross herds. Herd rebuilding was evident with large number of buyers looking for bulls suitable to join to heifers. More buyers than ever before looking at EBVs as an aid in sellecting new sires.
In the stud market top price bull was Devon Court Centurion K152 selling for $24,000 to Glenlyon Rural Holdings, Toowoomba.
$20,000 was paid twice for Talbalba Adbvance K134 selling to Currackabark Herefords, Gloucester and the Holliss family's Lotus Herefords, Glen Innes.
Devon Court Avalanche K173 was bought by Chris Lisle, Tummel Herefords, Walcha and Glenwarrah Pastoral Co, Bundarra, NSW
Amos Vale Herefords bought Talbalba Advance K56 for $17,000.
Thank-you to all buyers and underbidders for your support.