Days Kingswood Q139 (PP)
Days Kingswood topped the Days/Allendale 2021 sale at $40,000. He is a bull with extra muscle shape, top 1%, while retaining marbling top 15% and softness. His growth figure puts him in the top 5% of the breed with moderate birth weight and excellent calving ease. His fertility data tops off the package with top 5% gestation length and scrotal circumference and top 15% days to calving.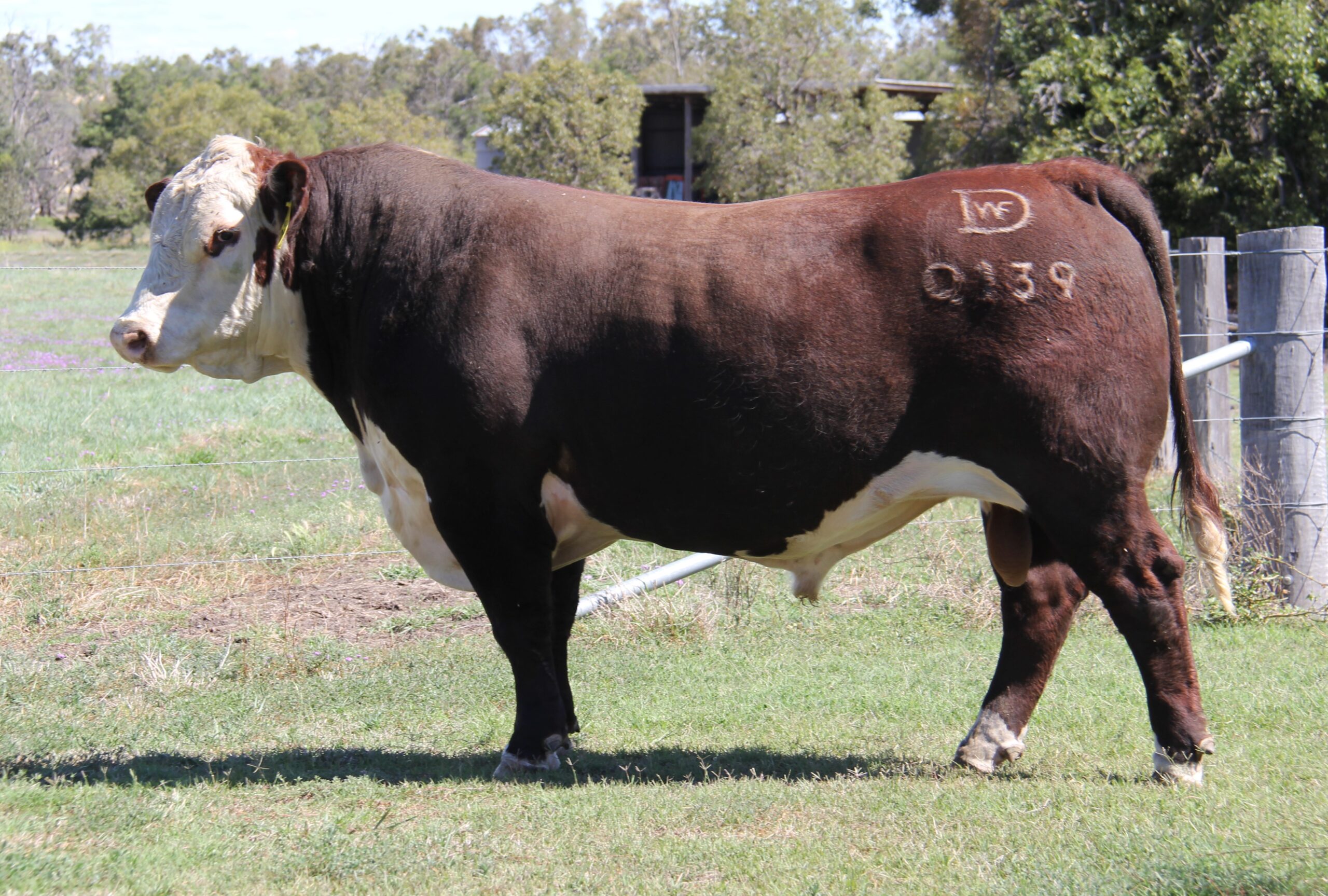 Talbalba Hoffman R131 (PP)
Hoffman R131 sold for $91,000 at our 2022 sale to Newcomen Hereford Stud, Ensay, Victoria, we purchased a possession share. R131 is a very thick, mobile bull who brings a lot of strengths to the table. Strong CE, short GL and low BW with above average growth. He boasts big Sc and short DC for extra fertility combined with a big EMA and positive fats for a quality carcase.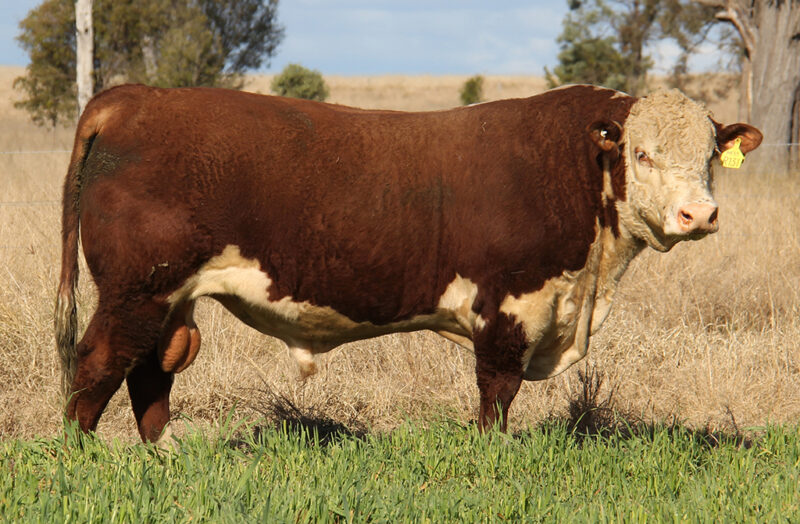 Talbalba Emperor P043 (H)
Talbalba Emperor P043 sold to Cara Park Herefords and Yarram Park Performance genetics for $100,000 at our 2020 annual bull sale. He is a low birth weight high growth bull with exceptional carcase. Semen retained for in herd use.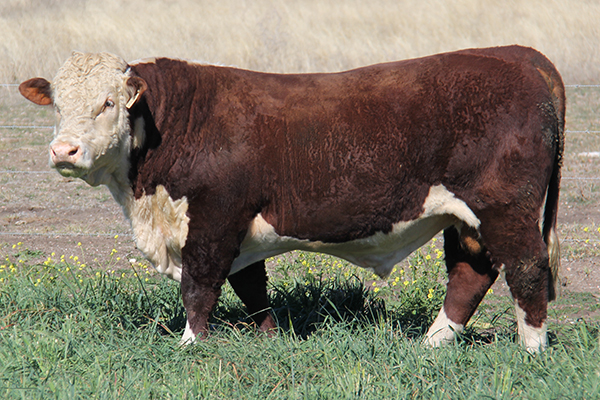 Koanui Techno 3060 (P)
Koanui Techno 3060 has been the most successful overseas sire used in Australia in recent years. He combines top 1% growth with positive calving ease, top 1% scrotal, top 5% days to calving, top 20% EMA and top 5 % marbling. Progeny have good skins and lots of growth. First sons available 2022.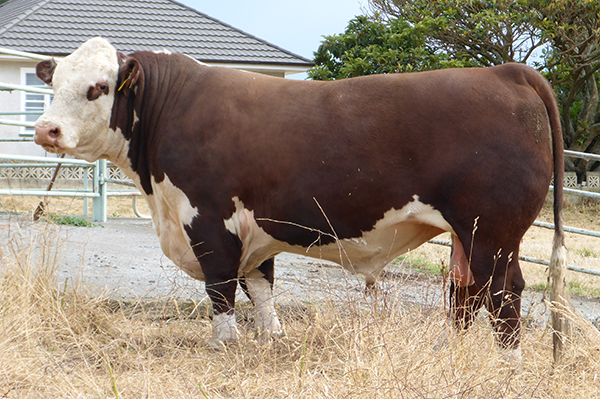 Lotus Marshall M102 (H)
Lotus Marshall M102 topped the Lotus sale at $27,000. He is a high growth bull, top 5%, with strong carcase attributes, top 10% muscle and marbling. Slick coated red eyed sons available 2021.
Days Genesis N102 (PP)
Days Genesis N102 was used over heifers in 2019. He is a very low birth weight, high calving ease bull with growth in the top 30%. His carcase is outstanding and he has passed this onto his calves with muscle top 10% and marbling top 5%. Sons available 2022.
KCF Bennett Homeland C34 (PP)
KCF Bennett Homeland C34, a son of the influential Hometown 10Y bull was used as a heifer bull in 2018/19.  He has a super data set with moderate birth to high growth, lots of fertility and carcase attributes. Daughters are excellent.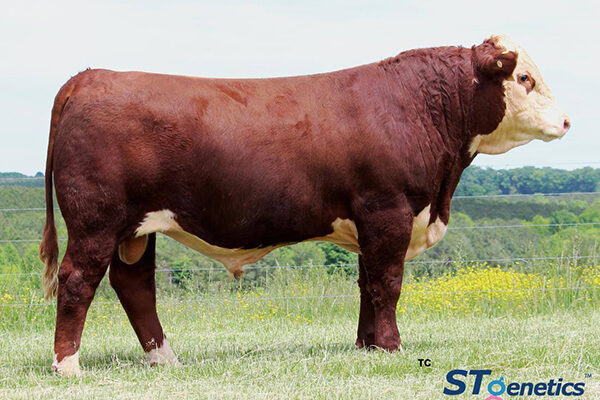 Tarcombe Fort N093 (S)
Senior Champion Bull Wodonga National Show and Sale 2019.
Easy doing moderate frame, moderate birth weight sire with excellent phenotype and marbling in top 10%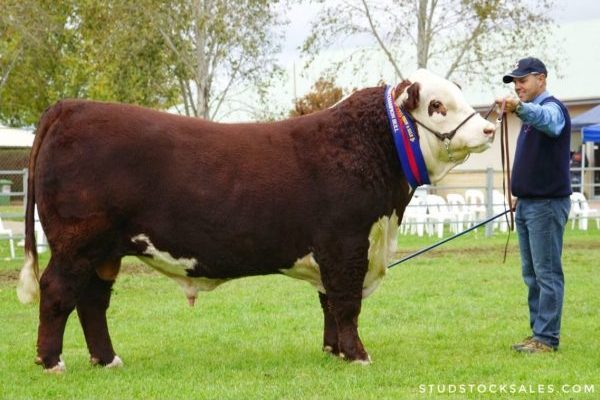 Ravensdale Guardian M222 (ET) (P)
Purchased Dubbo National Show and Sale 2018 for top price $32,000. Sire Allendale Anzac E114. Reserve Champion Supermarket Performance Class. Guardian combines good performance data with an attractive phenotype. Growth figures in the top 1%, positive calving ease and marbling with a proven pedigree. Photo taken at 22 mths.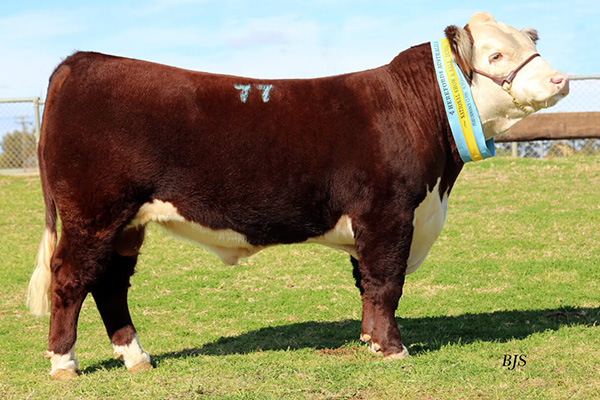 Days Executive K168 (P)
Days Executive K168 (P)Purchased at Dubbo National Show and Sale for $45,000 2nd top price, with Marc Greening. K168, by prepotent sire Allendale Waterhouse, was Reserve Intermediate Champion and Reserve Champion in the Supermarket  Index Performance Class at Dubbo. He is a 98% Homozygous polled bull with excellent performance data; top 5% of the breed for EMA, top 3% growth and top 10% IMF.  EMA +5.5, IMF +0.8 and all indicies in top 5% of the breed. Executive is a powerful bull with a terrific muscle pattern and structure, a modern sire with all the attributes to take the Hereford breed forward.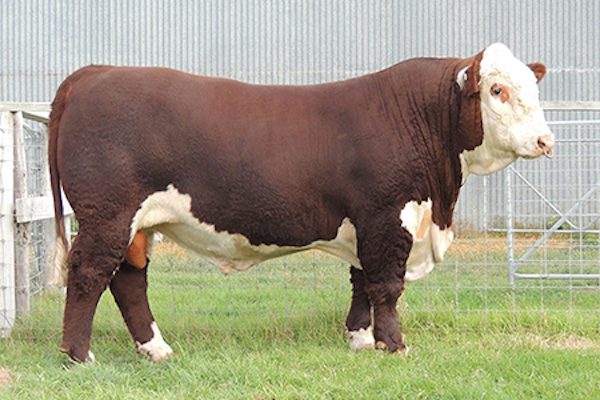 Oak Downs Lawloit L75 (P)
Oak Downs Lawloit L75 (P)Purchased February 2017 for $18,000 with Mawarra Herefords, top priced bull at Kerlson Pines and Oak Downs Sale, South Australia. 972 kg at 21 months, 98% Homozygous polled bull by Harvie High Roller ET 66X (IMP CAN).
Moderate, deep and thick quality young sire wrapped in a beautiful skin. Top 1% SC, Rib and Rump fats, Top 5% Carcase weight, EMA, Supermarket, Grass Fed and EU Indexes. Top 10% 400 day weight and Grain Fed Index.  EMA +5,1 and IMF +0.7.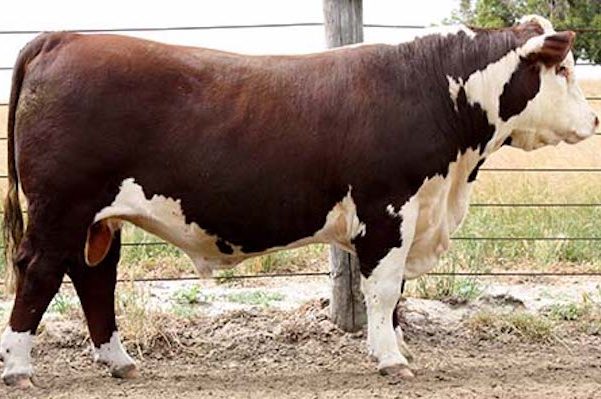 Talbalba Wallace H83 (S)
By South Bukalong Wallace, H83 is currently our leading sire with excellent phenotype, performance data, carcase and faultless temperament. Our SB Wallace females are outstanding with perfect teat and udder shape, volumes of milk and are excellent calvers.
They are also breeding on with many of this year's sale bulls out of Wallace females, a good effort for 2 year old heifers. H83 is the rare combination of muscle, IMF and female traits with the data to back it up. H83 will consistently improve calving ease, top of the breed.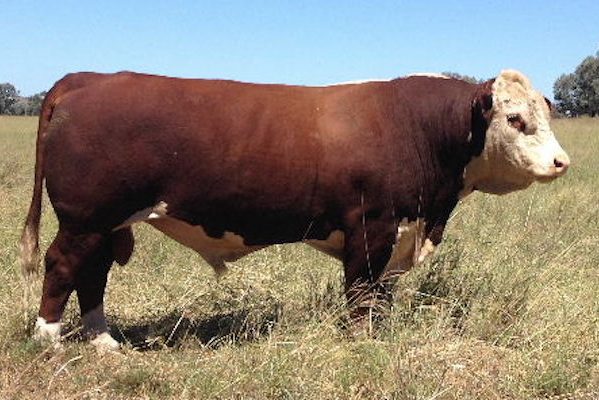 Yalgoo Jacob J053 (P)
Purchased in 2015 from Yalgoo, NSW. B muscle score bull by Yalgoo Viceroy E316, J053 has plenty of performance with big round muscle pattern and excellent structure.
Well set eyes with lovely skin and good temperament. Top 5% of breed for EMA, 400 and 600 day weights. EMA +5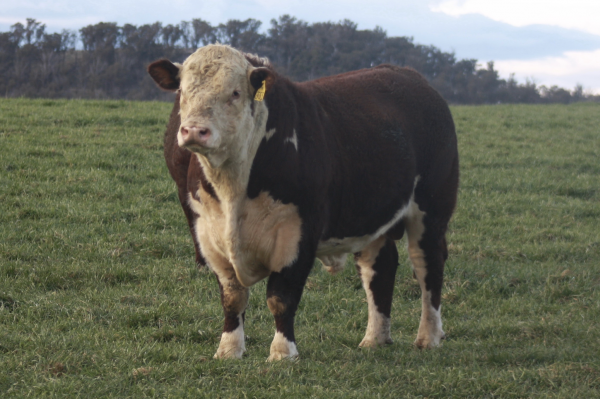 Injemira Anzac J188 (P)
Top priced bull, $32,000, purchased with Days Whiteface at Injemira Bull Sale 2015.  Injemira Anzac J118 is a Homozygous polled son of Allendale Anzac E114. He weighed 820kg at 18 months and is in the top 1% of Breeplan for Intramuscular fat % and Grain Fed Index. J118 is an outstanding modern beef sire with moderate frame, extreme carcase and perfect structure backed up by an excellent pedigree and breed leading Breedplan figures.
Anzac sons proved extremely popular at Injemira with 18 sons averaging $12,000 in 2015.
Devoncourt Advance F052 (H)
DC Advance is owned with Mawarra Herefords, Victoria.He was selected for his outstanding muscle shape, fat cover and low birth weight.
His performance data backs him up , top 5% of the breed for IMF and 15% of the breed for EMA. His calves will be at the top end of our 2016 sale bulls, exhibiting their sire's super structure and outstanding carcase qualities.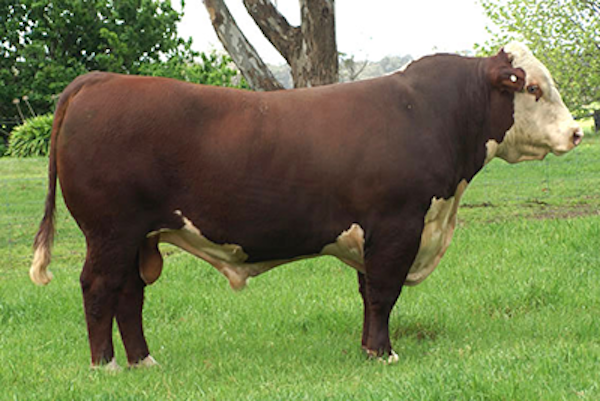 Injemira Anzac H006 (P)
Top priced bull at Injemira in 2014 selling to Jarrah Cattle co for $45,000, we liked this bull as a youngster and purchased a semen share after the sale.
By the well known Allendale Anzac E114, H006 has outstanding carcase attributes, excellent structure with good eyes and a slick skin.
His Breedplan data is breed leading with an IMF of +1.3, EMA +5.2, Milk +16, 600 day wt +107 and Grain fed Index of +$148.
Being Homozygous polled is an added bonus.
In 2014 19 Anzac sons averaged $10,850 and in 2015 18 sons averaged $12,000.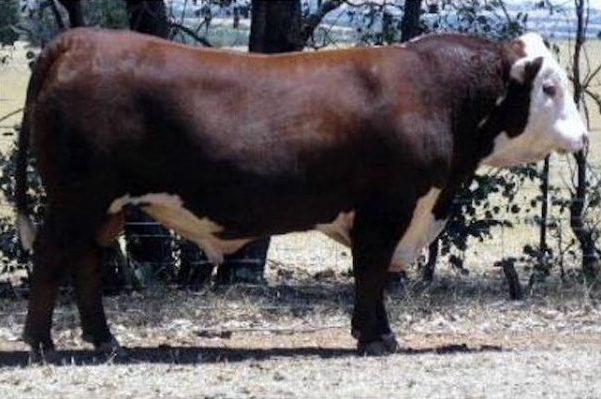 Mawarra Black Heart (H)
Purchased with WRL Herefords, Dalby at Wodonga National Show and Sale 2014 for $18,000 (top priced bull from Mawarra).
Black Heart is the best son we have seen by Glenwarrah Lismore More who has been used successfully at Talbalba and Mawarra in recent years.He is a very long, strong topped muscular bull with lovely cosmetics and an impressive EMA figure of +6.1 and positive fats and IMF. Lismore More's male progeny are very muscular and his females calve and milk well, easy care cattle.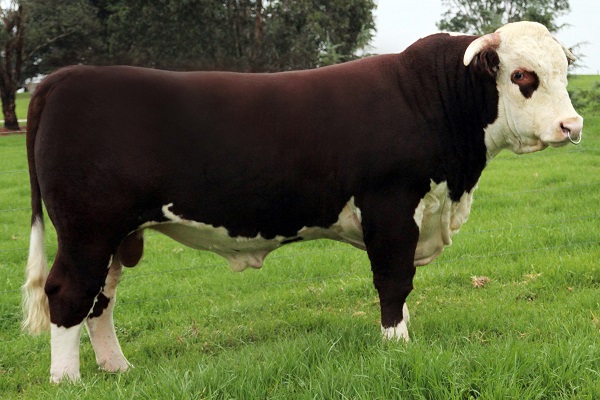 H Victor 0136 (Poll)
We chose Victor out of the World Hereford Conference show in Calgary as the bull most able to improve muscle shape in our cattle. He is by the low birth weight sire Victor 719T and goes back to Pure Gold on the dam's side.
He was 1100 kg at 27 mths, has an outstanding head and eye, slick skin and more thickness than any Hereford bull I've seen.He was Reserve Senior Champion Poll bull at Denver 2013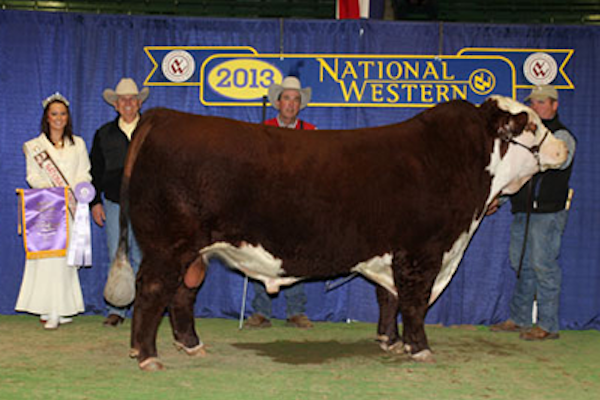 Bowmont Storm C115
Storm has been one of the most consistent bulls we have ever used.In 2012 14 sons averaged $8000 and we have 18 catalogued for 2013.
Progeny are long and thick with excellent structure and plenty of pigment.