Our 2018, 2nd on-property sale was solid, underpinned by strong commercial support.
40/51 bulls sold to a top of $17,000 to average $7162.
Bulls sold into purebred herds, but increasingly crossbreeding situations to be used over Santa and Brahman cross cows.
Buyers were predominately seeking bulls with strong carcases, positive calving ease and moderate birth weight.
Drought affected the clearance with only 2 bulls selling into NSW this year.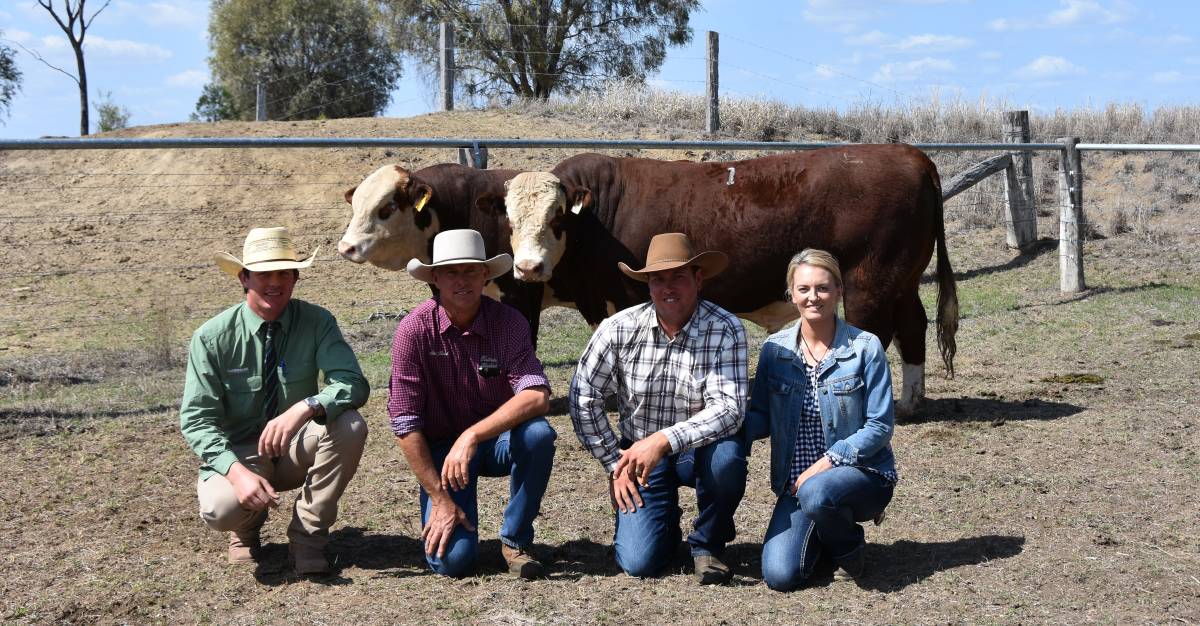 Lot 1 Talbalba Black Heart M052 (H), top price bull sold to Campview Grazing for $17,000
Published at Queensland Country Life, 12th September Hayley Kennedy Mark, original article link
Commercial buyers dominated the Talbalba Herefords on-property bull sale at Delemere, Millmerrran, on Wednesday, pushing the sale to a $17,000 high.
Of the 51 bulls offered by the Reid family, 40 sold for a 78 per cent clearance rate and average of $7162.
The Ferling family of Campview Grazing purchased the top-price bull, Talbalba Black Heart M052, for $17,000 to become part of their commercial operation at Taroom.
The 2016 winter-drop bull, sired by Mawarra Black Heart and out of Talbalba Bexley, weighed in at 942 kilograms and measured 41 centimetres in scrotal circumference, with an estimated breeding value (EBV) of 4.9 for eye muscle area (EMA), 0.1 for intramuscular fat (IMF), and carcase weight of 60.
Tony Ferling, Campview Grazing, Kilcoy, said he was drawn to the strength and nice build of Talbalba Black Heart M052. "We bought him because he's young, he's got a good weight and he's a good yielding bull," he said. "He's got good length about him, and he'll breed good future cows for us. "We'll use him either for cross breeding or to put over Hereford cows to breed straight Hereford bullocks."
The James family of Teragram, Wandoan, took home the second-top price bull, paying $16,000 for Talbalba Conrad M176.
The 2016 spring-drop polled bull, sired by Yambro Conrad B88 and out of Talbalba Moonbeam K161, tipped the scales at 832kg and had a scrotal circumference of 40cm, with EBVs of 2.7 for EMA, 0.4 for IMF, and carcase weight of 52.
Three seemed to be the magic number for volume buyers on the day with Campview Grazing, Taroom, Woodlands Beef, Biloela, Takor Grazing, Injune, Hornet Bank, Taroom, the James family, Wandoan, Kalang Grazing, Guluguba, and Buckinbah Stud, St George, each putting together a trio of new sires for their operations.
Talbalba Herefords stud principal Steve Reid said he was thankful for the strong support from commercial operators in such a challenging season.  "There were two lots of bulls selling, there were some high figured bulls that were selling to a certain group of buyers and they were going hard on them, and there was some more meat bulls going particularly into cross breeding herds," he said.
Landmark agent, Simon Booth, Toowoomba, said the sale saw a good result considering the dry weather. "Most of the bulls sold today are going into better commercial herds and the sale was bolstered by that commercial support," he said
"There was a lot of repeat clients in attendance, which is a testament to the cattle and the great job that Steve and Deb Reid do."
The sale was conducted by Grant Daniel and Long, and Landmark, with Mark Duthie, GDL, and Colby Ede, Landmark, taking the bids.