The Talbalba Hereford stud claimed our best sale average to date of $19,119 at our 2022 annual bull sale on 25th August. Lot 26, Talbalba Hoffman R131(PP) sold for the top price of $91,000 to Barry and Topsy Newcomen, Newcomen Herefords, Ensay, Victoria. This was our second highest price ever, only eclipsed by Talbalba Emperor P043 (H) selling for $100,000 in 2020.
In the breakdown, 64 of the 67 bulls offered were snapped up for a clearance of 95 per cent. Such was the success of the sale, 25 of the 67 bulls offered sold for $20,000 or more which boosted the sale's average from $15,797 last year.
Sale topper Talbalba Hoffman R131, a 22 month old homozygous polled son of the home bred sire Talbalba The Hoff M035 weighed 912kg had a scrotal of 48cm and was rated in the top 10% of the breed for eye muscle area, gestation length and scrotal size. He also boasted strong calving ease, low birth weight with above average growth and positive fats and IMF for a quality carcase. Steve Reid described the bull as "a pretty unique individual with outstanding data. Phentoypically he has a lot of carcase shape, moderate bone, is structurally correct and very mobile". Talbalba retained semen rights and part ownership in the bull.
Heifer bulls were in strong demand with Lot 39, Talbalba Genesis R027(P) achieving second top price to the Anderson family, Narrien station Clermont of $34,000. The 24 month old muscular son of Days Genesis N102 weighed 880 kg, had low birth weight and was rated in the top 10 per cent of the breed for EMA and retail beef yield.
Volume buyers from across the state included Hazelmont Pastoral Holdings, Wandoan who purchased 10 bulls to average $20,350, Neverfail Cattle Company, Blackall purchased 4 bulls to average $12,750 and CA Flower and Company, Gorrabarra, who purchased 3 bulls at an average of $21,000. Interstate buyers such as Nowley Pastoral Company, Burren Junction, NSW, 2 bulls at an average of $25,000 also helped spur on the sale. Leading the sale's online buyers were Banana Station, Banana which purchased 3 bulls at an average of $21,000 and Ian Ferguson, Goulburn, NSW who purchased the first bull sold on the day for $28,000.
Steve Reid said "it was a terrific result and we've increased our clientele as well as regions we are selling bulls into, particularly with more bulls going into central Qld. We are trying to breed cattle with enough muscle that they can be used as straight bred cattle or for crossing with other breeds while still keeping a good finish on them. This allows them to increase carcase quality over Bos Indicus cattle and increase yield over Hereford cattle."
Thank-you to all buyers and underbidders, Agents Nutrien and GDL and assistance from family and friends, all contributing to a very good sale.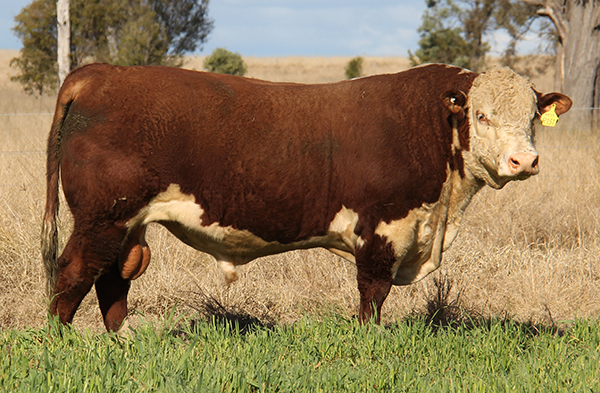 Top priced bull Talbalba Hoffman R131(PP) sold for $91,000 to Barry and Topsy Newcomen Herefords, Ensay, Victoria.