September, 2019
2019 third on property Bull sale saw a drought affected result with an 80% clearance to average $6,595.00.
Top price, Lot 31 Talbalba Justin N119 (P) with an outstanding set of Breedplan data sold to Neil James, Wandoan for $17,500. Thank you to our commercial clients for your loyal support in challenging seasonal conditions.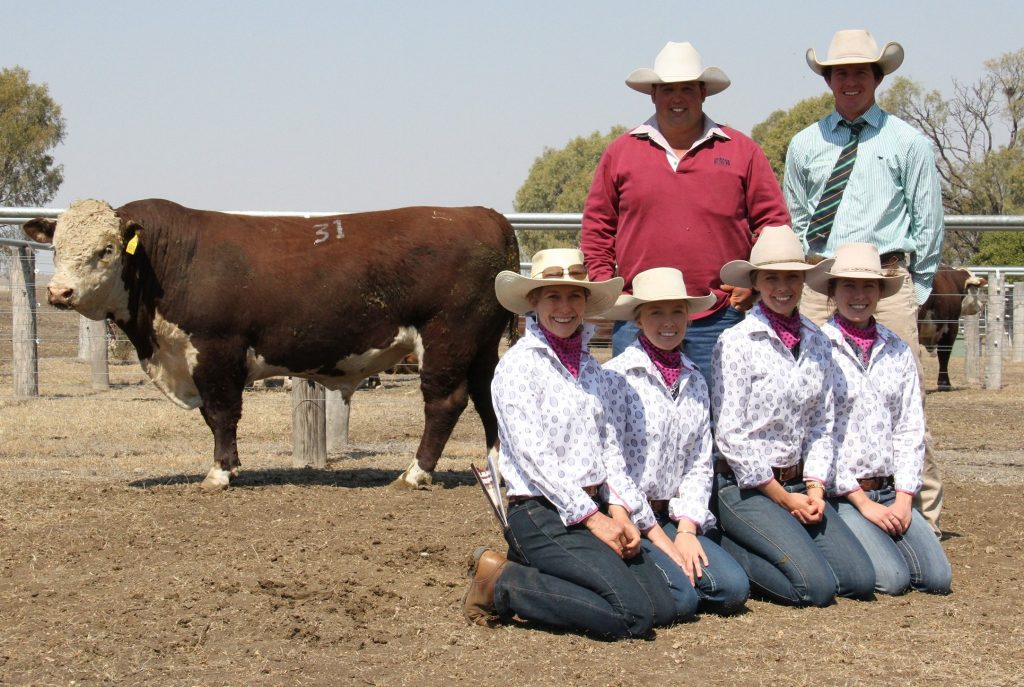 Extract from The Queensland Country Life, 27th September 2019 – link to article
Strong demand for quality genetics pushed the Talbalba Justin N119 to the top price of $17,500. The 24 month old bull weighed in at 874 kg index values of Supermarket +$149, a grassfed index of + $147, a grainfed index +$178 and an EU index of $164.
It was the data that caught the eye of buyer Neil James, Wandoan. "Good fertility figures with high growth and he had good positive fats, and this ticked the boxes I was looking for," he said.
Mr James runs a commercial Hereford and Angus herd at Wandoan and will use the bull over his Hereford cows.
The second top priced bull, 24-month-old Talbalba Anzac N130, sired by Injemira Anzac AI J188 (AI) (PP) was sold to Woodlands Beef at Biloela for $15,000. The Bowhay families, Buckinbah, St George bought three bulls to average $7667.
Stephen Bowhay said they had been buying bulls at the sale for the past few years and before that they were buying at the Southern Cross sale from principal Steven Reid's father over a 20-year period. "We were looking for size, colour and temperament and these bulls had all that," he said. "The traits have to be up there and growth as we have a feedlot and push out 600 day steers under two years of age at 350-380 kg carcase weight so we need the bigger bulls."
They use an 80 per cent grain ration in the feedlot and this year they have used sorghum. Normally they would use wheat that they had grown but due to the season they have had to purchase the grain.
DA & KL York, Southleigh, Wallumbilla bought three bulls to average $4667.
Stud principal Steven Reid said buyers were chasing specific types of genetics and they were willing to pay why that had to secure those genetics.
"Each year that becomes more obvious in our sale where buyers know exactly what they want," he said.   "The market is changing and we have to meet the challenges."
Auctioneer for Landmark Simon Booth said it was a good result and a reasonable average, with nine out of ten buyers repeat clients.