2015 Southern Cross Sale Report.
Talbalba top price $17,000 ave $6,190 86% clearance
Devon Court top price $9,000 ave $4,519 75% clearance.
In what was described as a solid result, 77 Hereford bulls sold to stud and commercial operations down the eastern seaboard last Tuesday 15th to a top of $17,000 for Lot 51 to Ironbark Hereford stud, Barraba, NSW.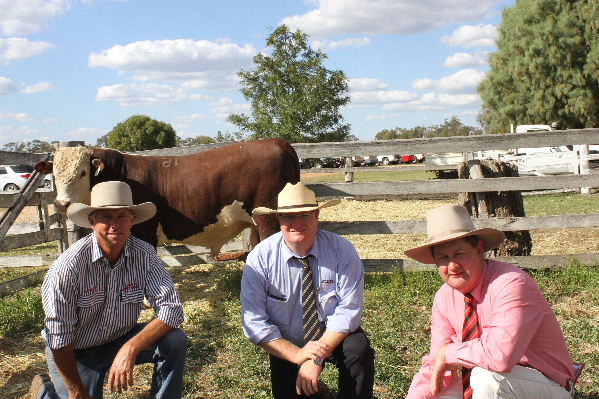 Steve Reid, principal Talbalba, selling agent Mark Duthie GDL and Geoff Hayes on behalf of Adrian Spencer Ironbark Herefords with top price bull Talbalba Storm K001 sold for $17,000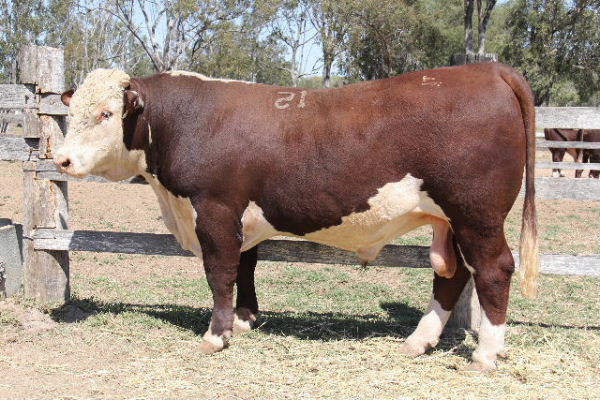 Lot 51 Top selling bull at $17,000 Talbalba Storm K001
Stud Principal Steve Reid described Talbalba Storm K001 as "one of the best we have offered" and "it was rewarding to see him going to a stud with such a rich history". The 19 mth son of Bowmont Storm C115 weighed 864kg prepared solely on pasture and oats with an EMA of 120cm fat 11/8 and scrotal 43cm. K001 had the structure and muscle pattern typical of the Storms with good Breedplan figures, softness and sire appeal.
Mark Campion from Amosvale Stud, Glen Innes purchased 3 attractive stud sires for an average of  $9,666, including Talbalba Storm J206 for $11000. Also purchasing bulls for duties in the New England at $10,000 were Grant Donnelly, Eldorado Partnership who purchased T Valuer J082, and Fred and Anne Starr who secured T Storm J197 .
Ian and Lisa Muir from Millmerran bought the heaviest bull of the sale, a Talbalba Valuer son weighing 954kg at 24 mths with an EMA of 134cm and a marbling EBV of +0.8 for $11,000 to be used over Santa and Santa / Hereford cross  cows. One of the highlights of the sale was the number of bulls selling into cross breeding herds as a British breed influence, to increase meat quality, and improve temperament and fertility.
Co –vendor Tom Nixon sold to a top price of $9,000 for Lot26 Devon Court Eclipse J157 to Ian Staines, Guluguba. The 25 mth old son of Glendon Park Eclipse J157 weighed 950kg with an EMA of 130cm, fat 18/12 and a good spread of EBV figures.
Bulk buyers from St George, the Bowhay family Buckinbah stud, once again showed their support purchasing 8 top end bulls to average $6750 with a top of $9,500 for Talbalba Storm J089 and $9,000 for another growthy Talbalba Storm. Storm sons proved extremely popular for their muscle pattern and performance with 18 sons averaging $7,638.
Repeat buyers were the mainstay of the sale with Richard ,Lindsay and Angus Moffatt, Eurumbah Past co Taroom buying 5 quality bulls to ave $4200, the Hill family, Goorarooman, Thallon, 5 bulls to a top pf $8000 for  DC Advance J186. Dayne Vincent bought 2 Yarram Unique sons with excellent EBV figures for $7000 ave , and  bulk buyers Wondolin Pastoral co, Wallumbilla picked up 5 good value bulls.
Overall good quality bulls were good buying at the sale.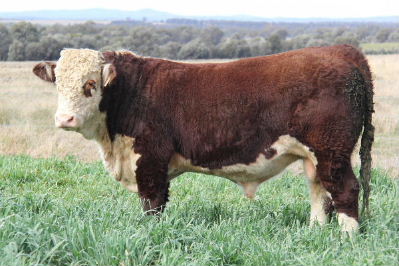 Lot 6 Talbalba Storm J206 sold for $11,000 to Mark Campion, Amosvale Herefords, Glen Innes.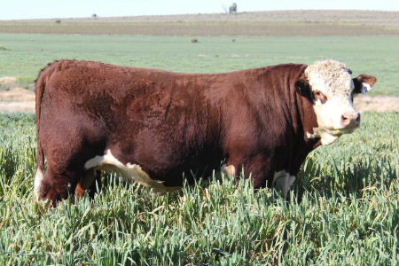 Lot 2 Talbalba Valuer sold for $11,000 to Ian and Lisa Muir, Millmerran.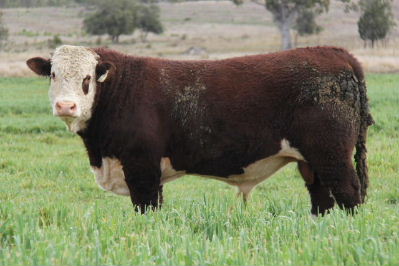 Lot 45 Talbalba Storm J197 sold for $10,00 to Fred and Anne Starr, Foxforth Herefords, Guyra.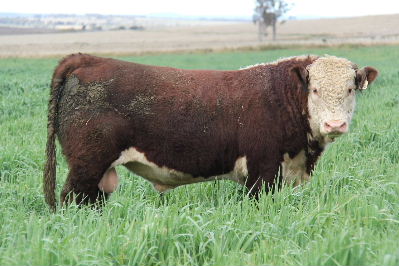 Lot 61 Talbalba Flash J174 sold for $9,500 to Mark Campion, Amosvale Herefords, Glen Innes.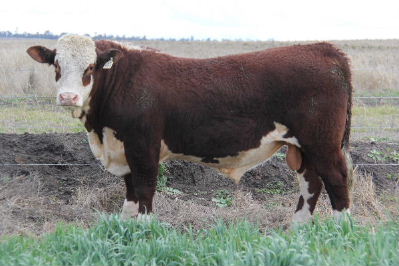 Lot 7 Talbalba Storm J089 sold for $9,500 to Buckinbah Stud, St George.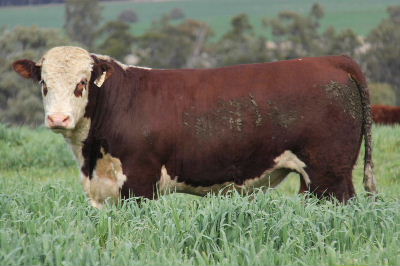 Lot 47 Talbalba Storm J224 sold for $9,500 to Mark Campion, Amosvale Herefords, Glen Innes.