On September 15 at the Southern Cross sale we sold 46 pasture fed bulls to average $7837 . Talbalba Yowl was the top price at $40000, selling to the Orphant family, West Bank Herefords, Gunalda. Yowl was sired by Courallie Uropa Y126 from Talbalba Monica B172 and weighed 950 kgs at 24mths of age with and EMA of 131 cm2.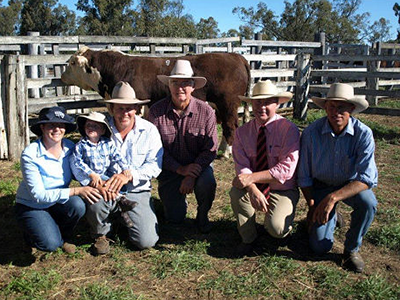 Second top price was for Lot 19, Talbalba Yonki, who was sired by Mawarra Trail Blazer. He weighed 960 kgs at 23 mths amd had an EMA of 129cm2 and made $26000 to Amos Vale Stud, Glen Innes.
Third top of $15000 went to Lot 2, Talbalba Yiddish by Cootharaba Magnum. He weighed 968 kgs at 25mths and had an EMA of 129cm2 and sold to Lambert Stud, Charleville.
Other noteable sales were Talbalba Yule by Mendez to Beralga, St George for $13000; Yaffa by Star General to the Orphant family for $11000; Yonnie by Magnum to Newton family for $11000; Yobbo by Magnum to Turee for $10000; Yandy by Uropa to Boxvale for $10000; Yogi by Magnum to Geoff Bush for $9000; Yates by Magnum to Wandong for $10000; Yiky by Trail Blazer to Foxforth for $11000; Young Gun by Nitro for $11000 to Curracabark; Yelp by Giant to Glenshaw for $10000 and Storm F007 to WRL for $10000.
The 46 Talbalba bulls were prepared on pasture and oats crops with no supplementary feeding and, at 22mths of age, averaged 844 kgs with an EMA of 120cm2.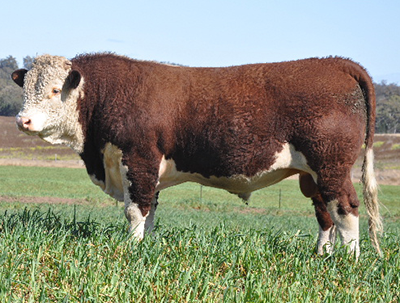 Lot 19 Talbalba Yonki sold for $26,000 to Amos Vale stud, Glen Innes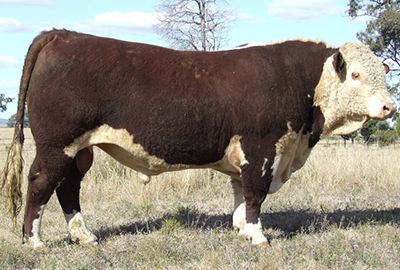 Lot 2 Talbalba Yiddish sold for $15 000 to Lambert Stud ,Charleville